Multiclass racing, something that can only be done when there is mutual respect between drivers. Because "it takes 2 to tango", and in this case it's dancing at high speeds, through tight corners and different racing lines for both GT3 and GT4. The Kyalami 2.4h is the first of 12 multiclass team races organized by Simsport Racing International.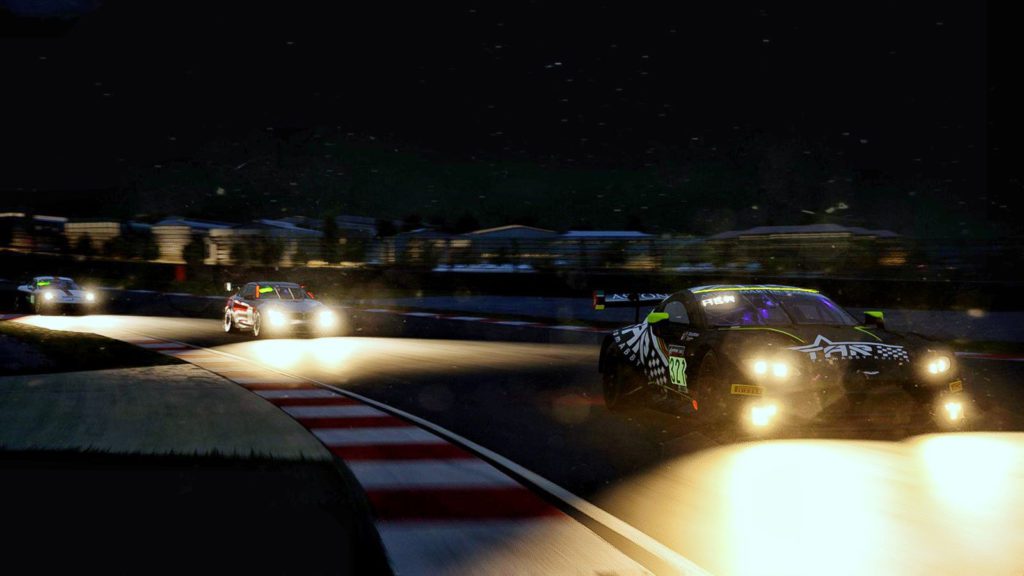 So I hear you think, what's the speed difference between a GT3 and GT4 lap i hear you think? Roughly 10 seconds per lap, and i assure you there is a lot you can do in 10 seconds. What i hear you think? Well, you can fold your T-shirt like a ninja, Solve a rubics cube, pick a lock, or have driver 2 enter the server first. Read all about it here. So over the full race lenght that's around 8 laps, this because the GT4's have the advantage of doing longer stints because of the lesser fuel consumption.
So what are the main differences between a GT3 and GT4 car? This article will tell you all about it, the similarities are that they are both based on a road car. The main differences are the overall weight, aero package and the power the engines are making. The GT3 has a more sophisticated aero package which basically gives the car more downforce and thus the capability to corner at higher speeds, add the extra power and there are the 10 seconds per lap. Below the example of the AMG GT3 / GT4 taken from the Mercedes AMG customer racing brochure.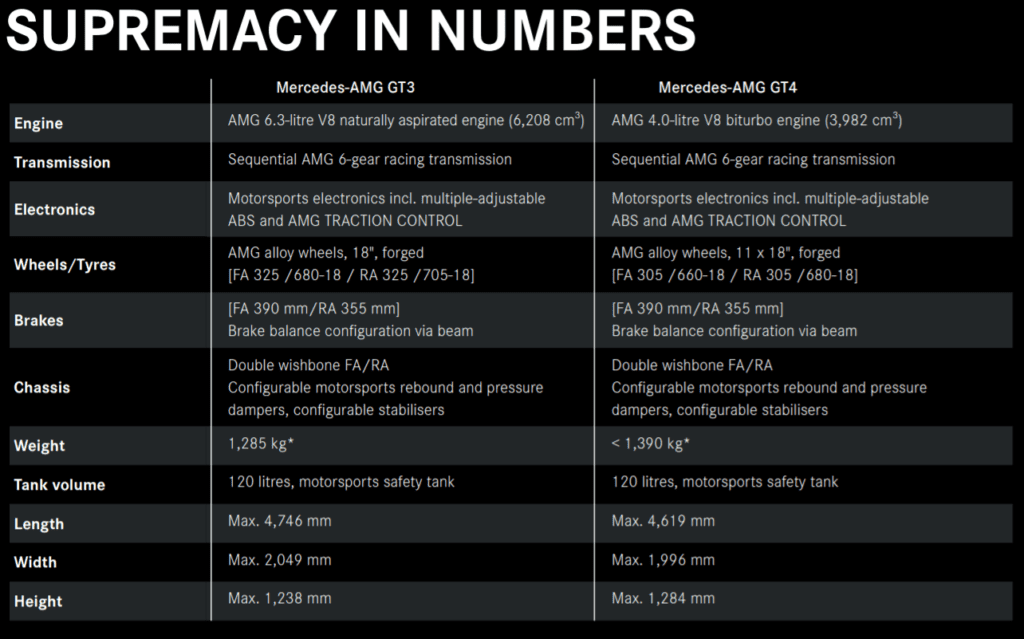 So now you guys are more aware of the differences, and what drivers have to anticipate to whilst also trying to compete in their own class. It's time to sit back and enjoy the livestream with commentary of Chris and Chris, brought to you by the team at Simsport Solutions.
The 2.4h series in a team championship, so teams consist of 2 drivers and 1 reserve driver and compete with the same car and race number throughout the season. We race every last friday of the month at 19:30 CET practice starts and at roughly 20:15 CET the flag drops for the 2.4h race (144 minutes), the max driver time is 110 minutes ensuring that both drivers get sufficient seat time.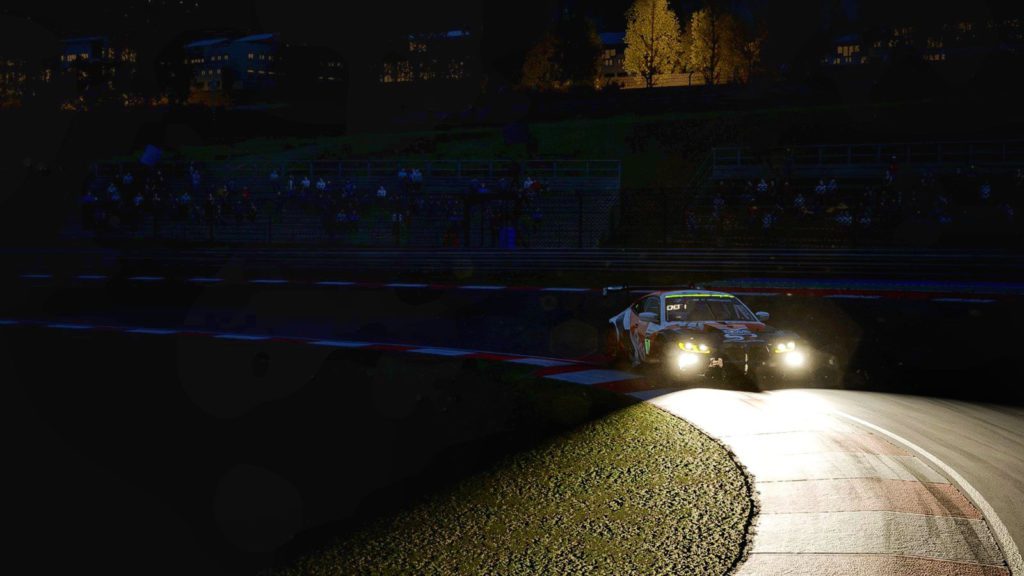 Results Kyalami 2.4h GT3 Class
1st Place – Simsport Racing International – #71 – Riley / Vidago – BMW M4 GT3
2nd Place – Team Rocket: M Power – #43 – Lenssen / Vallenduuk – McLaren 720S GT3
3rd Place – TeamAbby Racing – #321 – N. Abrunhosa / Torri – AMR V8 Vantage
Championship Standings 2.4h GT3 Class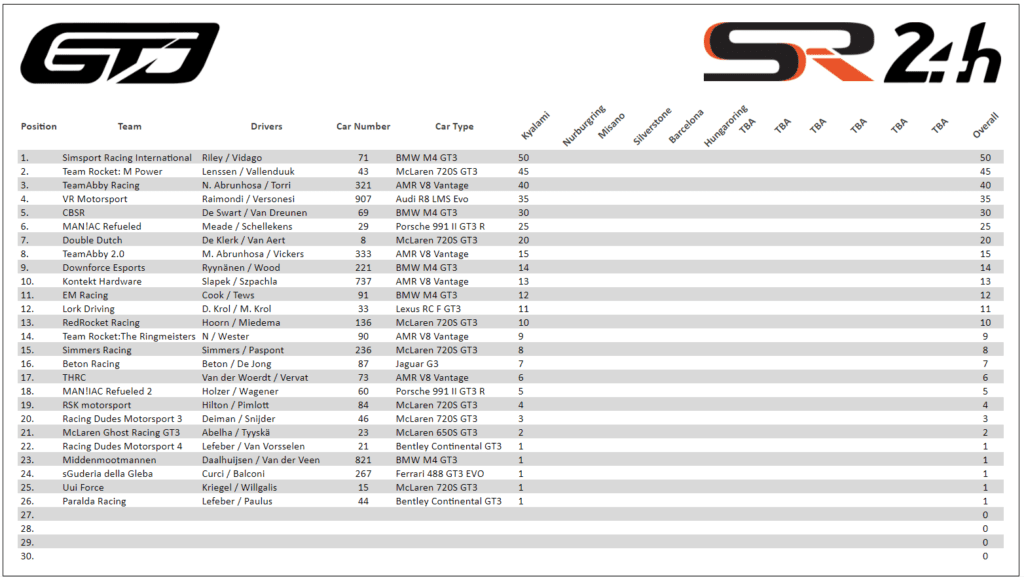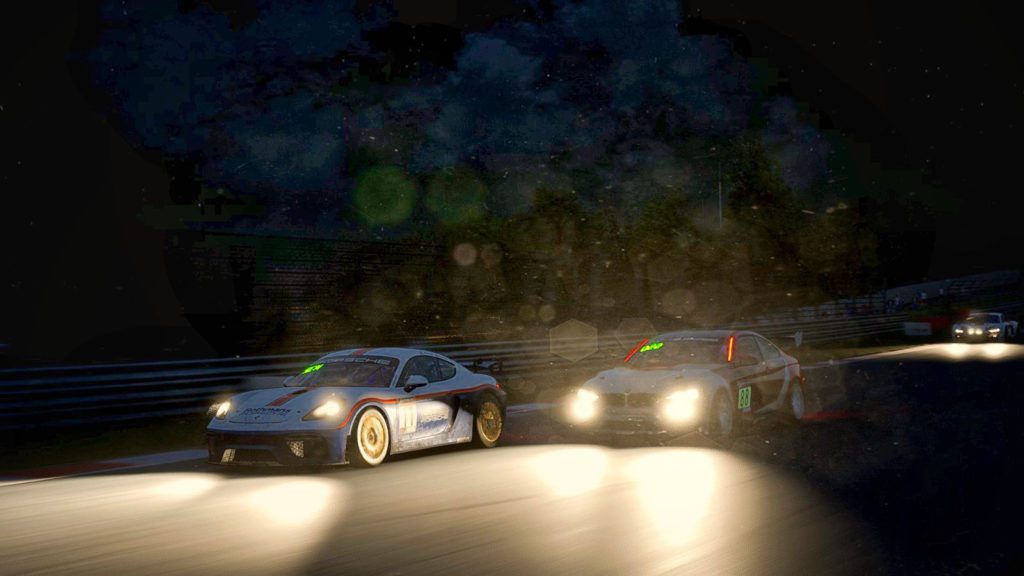 Results Kyalami 2.4h GT4 Class
1st Place – MODE11 Racing – #11 – Schenk / Van Melis – Porsche 718 Cayman GT4
2nd Place – Resistance – #88 – De Groot / Hutman – BMW M4 GT4
3rd Place – Pulse Motorsport GT4 – #777 – De Keijzer / Wanst – Porsche 718 Cayman GT4
Championship Standings 2.4h GT4 Class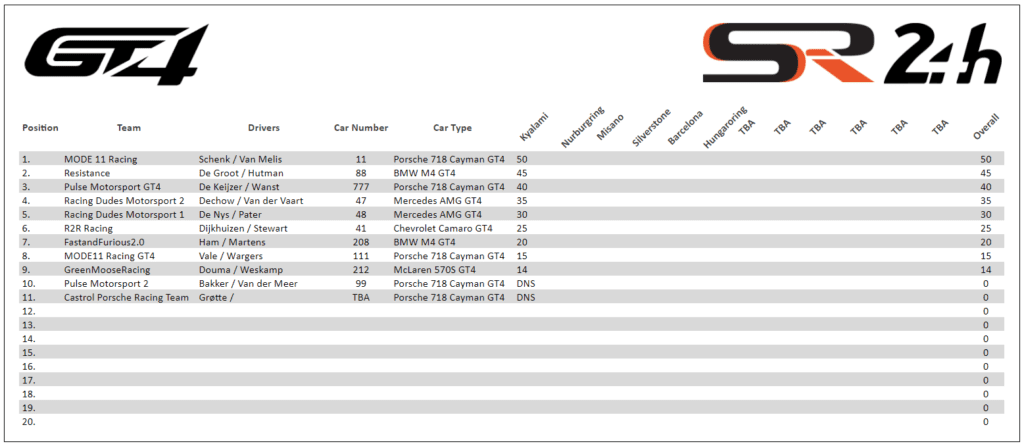 As you can see we still have spots left in both classes, so if you want to join the fun next race at the Nurburgring be sure to check our events page for all details. We will leave you with some snapshots of the race and hope to welcome you as driver or spectator during our next event!

– SSRI The Place To Race