A famous quote by Mario Andretti, setting up your car for a dry track is already difficult, but finding the balance in the wet can be even harder. If you go too safe you lose valuable seconds per lap, it's all about finding that sweetspot. The 2nd race of the 2.4h series bring us the Nurburgring, the track was wet, it was time to dance in the rain!
For the 2.4h series we chose the multiclass format, as explained in our previous post there are quite some differences between GT3 and GT4 cars, the biggest differences being horsepower and downforce. Furthermore depending on the car you have less dails you can turn on a GT4 vs a GT3 to adjust your setup. As said in the intro it was all about finding the ideal setup for the harsh conditions. To ensure that eveyone can put in a good qualifying lap the session is split in two 15 minutes sessions, one for GT3 and one for GT4. Below you can see the difference of the 2 pole laps GT3 vs GT4 at the Nurburgring.
The essence of multiclass racing is a mutual respect between drivers, with the visibility being limited it's even more difficult to anticipate. Cars can go into an unintentional slide or the braking distance a tad bit longer then expected. We can assure you that the weather, multiclass format and a grid with hungry drivers are a great recipe for a mouth watering race. What says more then pictures? Thats right the team of simsport solutions providing an epic livestream of the 2.4h race.
Results Nurburgring GT3 Class
1st Place – Simsport Racing International – #71 – Vidago / Pinchbeck – BMW M4 GT3
2nd Place – Team Rocket: M Power – #43 – Lenssen / Bani – McLaren 720S GT3
3rd Place – TeamAbby Racing 2.0 – #333 – M. Abrunhosa / Vickers – AMR V8 Vantage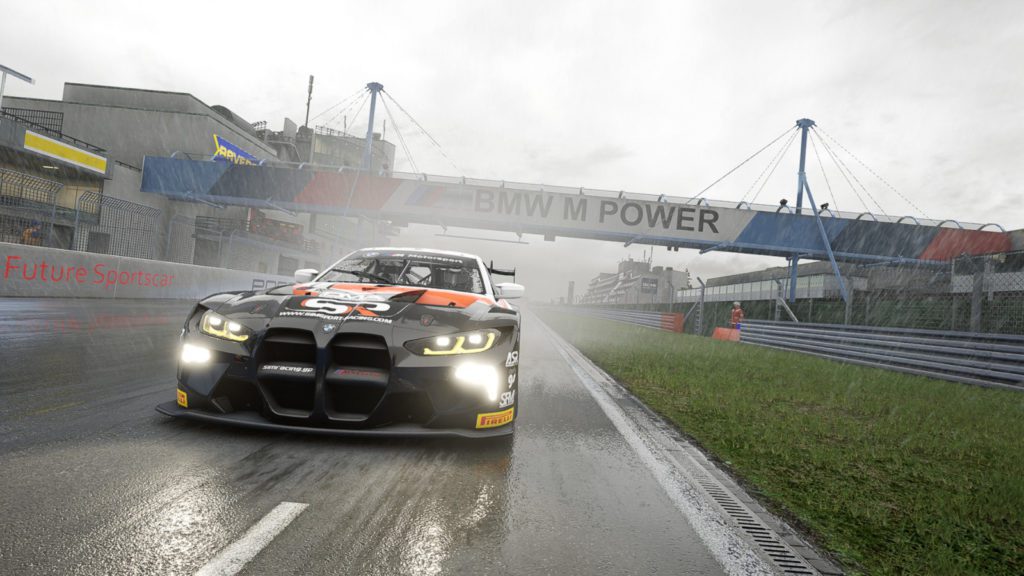 Results Nurburgring GT4 Class
1st Place – Pulse Motorsport GT4 – #777 – De Keijzer / Wanst – Porsche 718 Cayman GT4
2nd Place – Fast and Furious 2.0 – #208 – Martens / Ham – BMW M4 GT4
3rd Place – Green Moose Racing – #212 – Douma/Westkamp – McLaren 570S GT4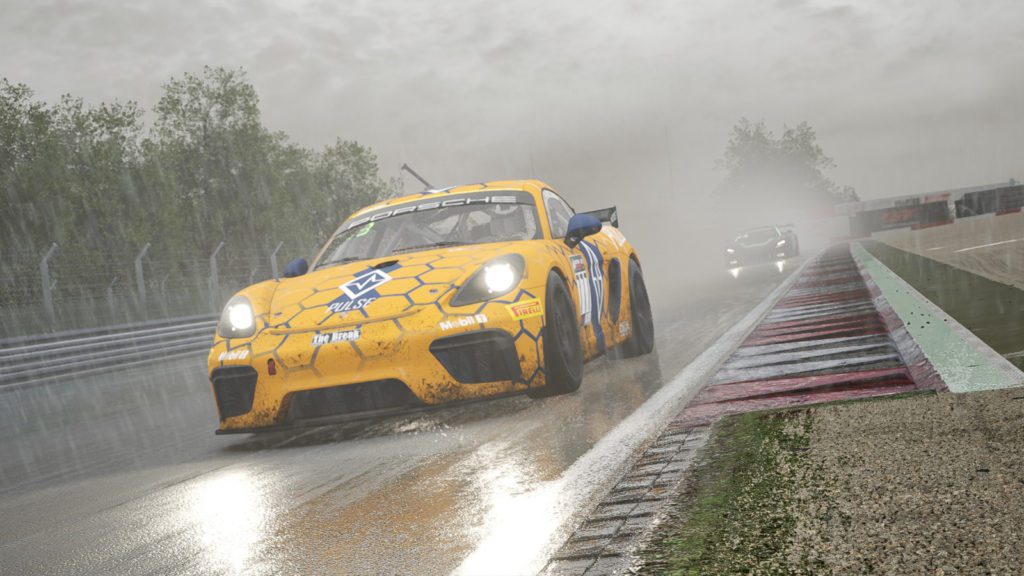 Championship Standings 2.4h Series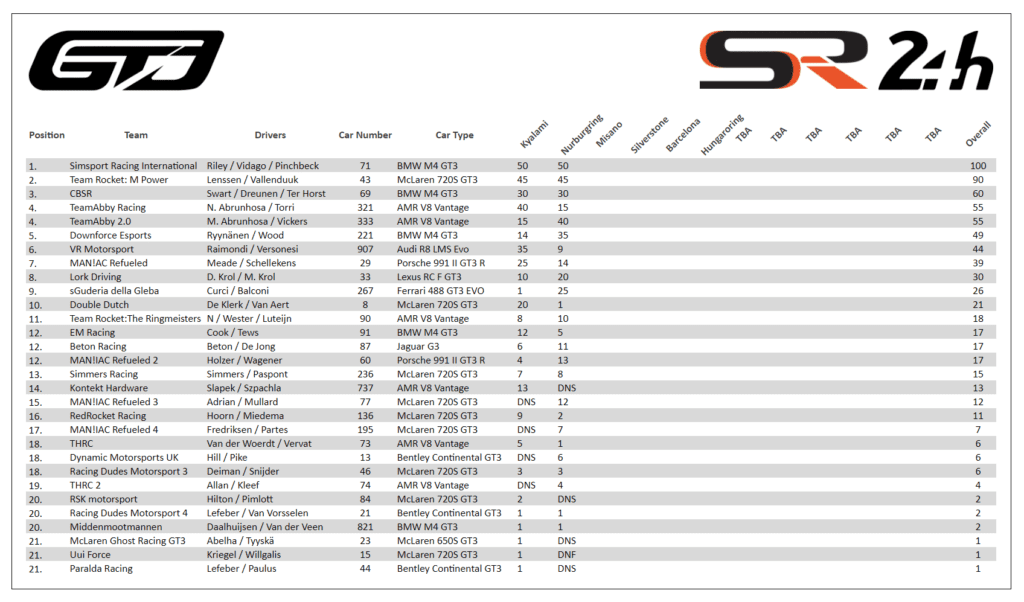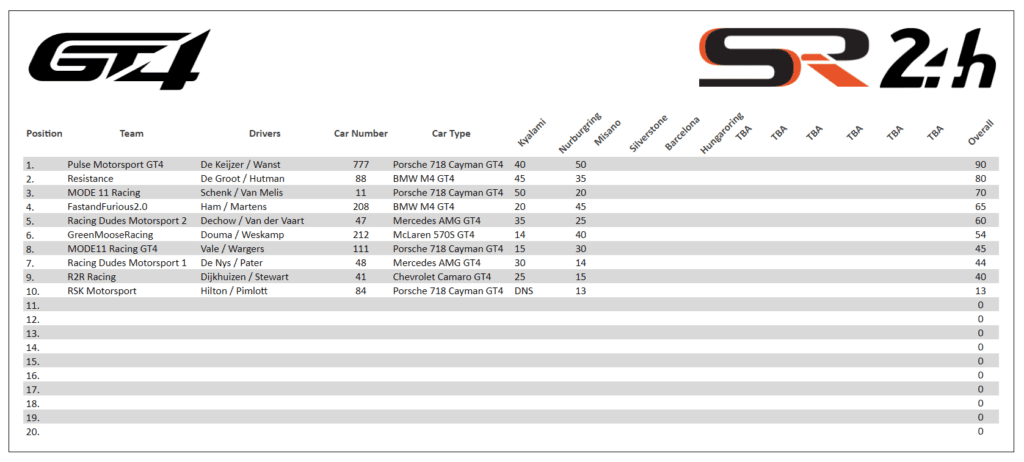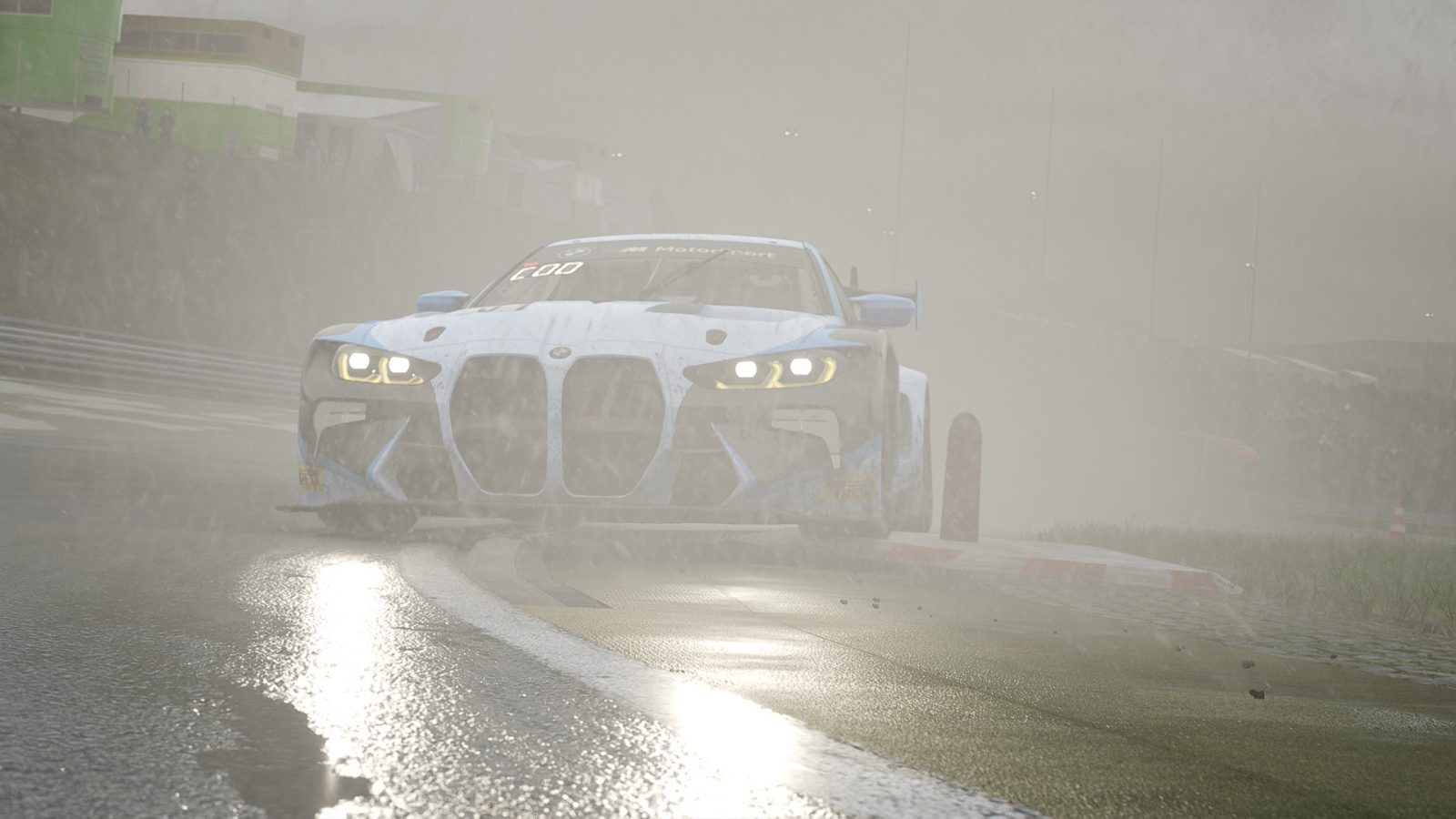 – SSRI The Place To Race